Heparin Oligosaccharides

Prepared by controlled partial depolymerisation of UF heparin by Heparinase I and separation of the derived oligosaccharides using high resolution gel filtration. The products cover the entire range of oligosaccharides present in Low Molecular Weight Heparins. 
General formula: *UA,2S – (GlcNS,6S – IdoA,2S) – GlcNS,6S
*the uronic acid at the non-reducing end of the chain contains a C4-C5 double bond due to the endolytic action of Heparinase I
Although the main disaccharide in heparin is the trisulphated unit GlcNS,6S – IdoA,2S heparin also contains di-, mono- and non-sulphated units; thus each size class of oligosaccharide, though substantially homogeneous in molecular size, contains structures that vary in content and pattern of sulphation. The 2mg amounts of supplied material can be subfractionated (eg. by SAX-hplc) for further analysis of naturally-occurring heparin sequences within a specific size class or classes. 
dp = degree of polymerisation where 'n' is the number of monosaccharides. So a dp4 (HO04) is a tetrasaccharide, a dp6 (HO06) is a hexasaccharide, a dp8 (HO08)is a octasaccharide………etc.
Main Heparin Disaccharide Unit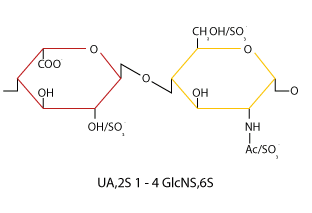 *the uronic acid at the non-reducing end of the chain contains a C4-C5 double bond due to the endolytic action of Heparinase